Monthly Archives: April 2005
The cover of this week's Economist magazine is simply beautiful: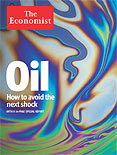 Here's a link to a striking Guardian article about the changes in Britain during the last 50 years: The nation in numbers.
Did you know, for example, that Mohammed was the country's 20th most popular name in 2004?
Things are changing…
Well, what happened here? I haven't posted anything in over a month. No excuses, really — although the Movabletype publishing system did stop working on my server for a while (no idea why, but it was my hosting company's fault). I was just busy and uninspired.
Anyway, here's what's new.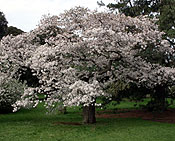 Lest that previous photo confuses you, be aware that it's now spring in the UK.
We're also in the middle of an election campaign. If you're interested in the story so far, the two best articles that I've read on the subject are What is Labour for? by John Lanchester published in the London Review of Books (actually a book review) and Britain's battlelines redrawn by fear by Philip Stephens in the Financial Times.
The election takes place on May 5, which is also when a friend of mine will make her Wigmore Hall debut. Carol Isaac and I used to work together at Roy Thomson Hall in Toronto, and she'll be accompanying American soprano, Twyla Robinson, in a recital of songs by Janácek, Brahms, Berg and Dvorák. I may be mistaken, but I don't think either of them has performed at Wigmore Hall before.
I'm experimenting with a new family history web site. It may not be a permanent fixture, so explore at your own risk. The main advantage is that the database is online, so the pages always display the latest information. In other words, I don't have to update the site manually!
People who embrace a technology early on in its development are known as "early adopters", but it's increasingly evident that the term can be applied to organisations as well. This is certainly the case with RSS (Rich Site Syndication or Really Simple Syndication), a technology that allows information to be easily syndicated across the web. It was incorporated into weblogs, so that people could stay up to date with a weblog's content without having to visit the weblog's home page, and it has improved accessibility to such an extent that you can digest much, much more information than normal using a RSS "newsreader". After the blogging community adopted RSS, progressive news organisations such as the International Herald Tribune and Christian Science Monitor started to implement it. Last month the Financial Times and the Economist, both industrial Luddites in their own ways, finally jumped on the bandwagon. So it's now clear that RSS has arrived.
And last, but not least Canada is apparently in an e-Government league of its own.